DBA Italia distribuisce:
3Helix commercializes labeled collagen hybridizing peptide (CHP) that specifically binds to such unfolded collagen chains, enabling unlimited laboratory applications in pathology, biomechanics, cell biology, regenerative medicine, and more.
Histopathology
CHP detects tissue damage and remodeling in a large variety of diseases through binding to degraded collagen
Mechanical Damage
CHP can measure and localize mechanical injury to collagenous tissue at the molecular level
Cell Invasion
CHP visualizes pericellular collagen turnover caused by proteolytic migration of cells within 3D culture
3Helix introduce a new approach to specifically image degraded or damaged collagen molecules in your favorite tissue.
Collagen Hybridizing Peptides (CHPs), the key probe which enabled these studies, as reported in recent articles in ACS Nano, Biomaterials, and Nature Communications, is now made available to you by 3Helix. CHPs can detect unfolded collagen molecules caused by MMP degradation, making it a perfect tool for studying MMP activity and ECM remodeling in tissues during disease states such as osteoarthritis, myocardial infarction, glomerulonephritis, pulmonary fibrosis; or natural tissue development seen in embryonic bone formation, and skin aging.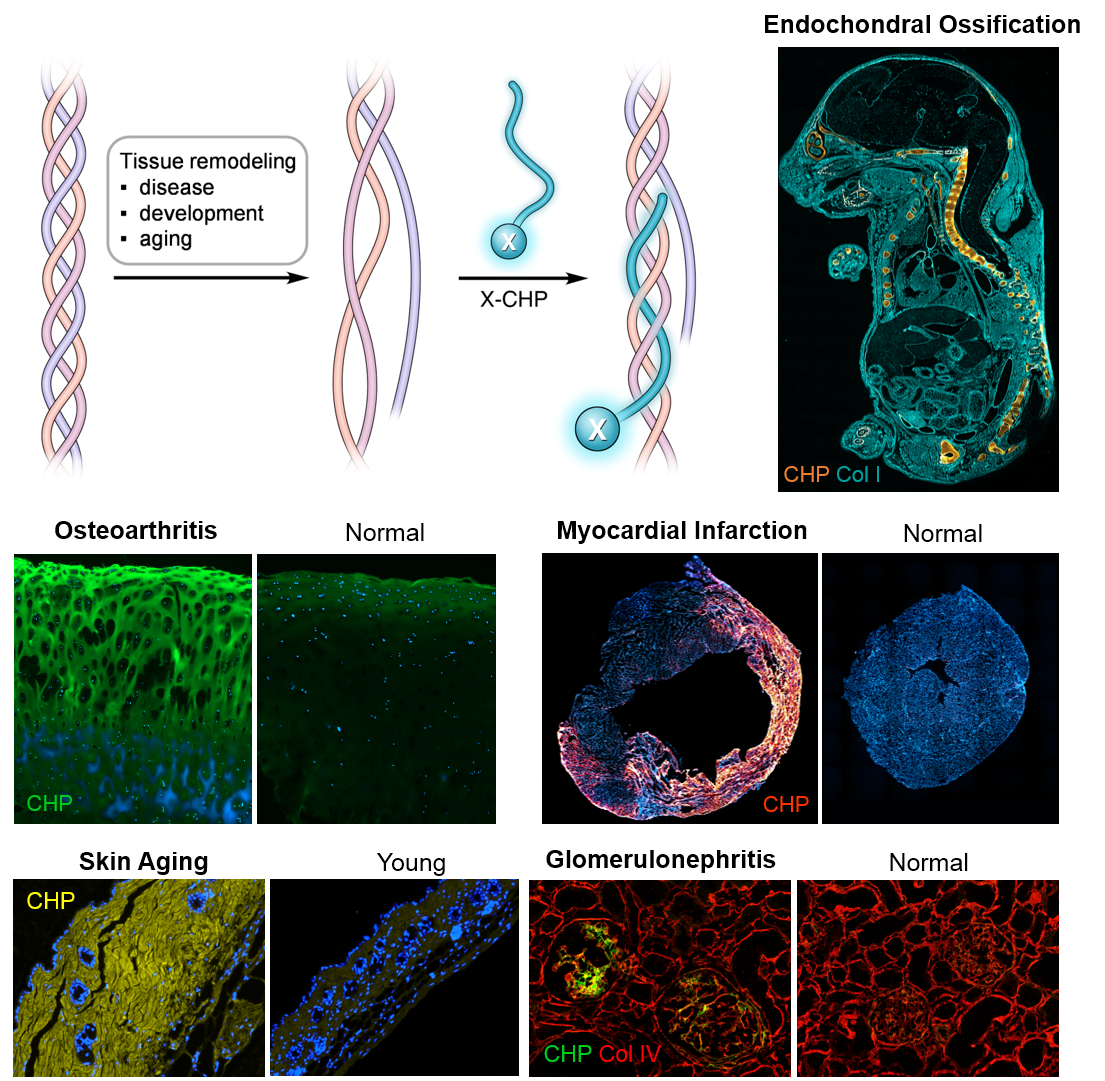 Fluorescein-, Cy3-, or biotin-labeled CHP selectively binds to degraded and unfolded collagen chains through triple helix formation, allowing imaging of tissue remodeling and injury, using a standard fluorescence microscope: https://www.3helix.com/applications/histopathology/. CHPs can stain frozen, fresh, or formalin-fixed paraffin embedded (FFPE) tissue samples.

Founder Prof. Michael Yu describes examples of the vast potential medical applications of CHP, which was previously termed collagen mimetic peptide. (No access to Youtube? Watch the video here.)